Polished Vintage Furse Fresnel Theatre Lamp.
Mounted on vintage tripods or original wall brackets.
Vintage circa 1960's oval Furse theatre lamps in polished steel. The fresnel lense softly diffuses the beam of light (the length of which can be adjusted using a sliding device beneath) making this lamp a good choice for supplying a general wash of light.
Supplied re-wired and PAT tested mounted on a choice of true vintage tripods with bronze, aluminum & brass fittings (in our opinion modern reproductions lack both quality and character).We can supply these tripods with bespoke leather restraining straps to hold the legs in the desired position (a good idea if using on a polished floor surface).
Alternatively if you want to wall mount these lamps we have just four original super rare hinged Furse brackets. Cast in aluminum with the Furse makers name and reg. no.cast into the framework these allow flexibility of movement. The brackets swing from the wall mounting plate as well as being hinged in the middle. We have some 'eyeball' shaped Furse lamps back in stock soon which also work well on these brackets.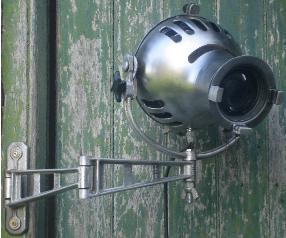 £475 each on vintage tripods. £425 each on original brackets
ITEM No:
DIMENSIONS: Height adjustable
ORIGIN: UK
CONDITION: Good
STOCK: 1 reserved,3 available
(Tripods vary, brackets are identical)


.................................................................................