Mid Century double sided library book trolley's.
Oak construction, rugged cast iron wheels
A hugely sturdy pair of oak book trolleys, salvaged from a West Country college library where it is believed they had been in service since the 1940's/50's.
Not to be confused with later light weight veneered models, these are of rugged oak construction with highly maneuverable giant cast iron wheels featuring chunky rubber tyres which move freely in every direction. Each trolley is double sided and has two slightly angled shelves to prevent their contents spilling when in motion. The smoothly rounded ends are protected with rubber edges.
We can see these versatile trolleys being useful in a retail or restaurant environment as they look good from every angle. Pile them high with merchandise, or use as condiment/cutlery carts.
The trolleys are the same height and width although the shelves are at different levels. One trolley is painted in a bright pillar box red whilst the other is the original varnished oak with yellow numbers 1,2,3 & 4 painted on the sides. The red trolley is marginally narrower from front to back.
£ sold out
ITEM No:
DIMENSIONS: Oak trolley 103 x 191 x 50cm
Red trolley 104 x 191 x 43cm
ORIGIN: UK
CONDITION: Good,clean vintage
STOCK: 2 available
(The last image shows them with an adult sized chair for scale)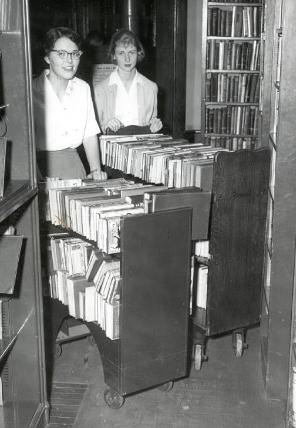 .................................................................................